Kitchen Inspiration: Clean, Functional and Personal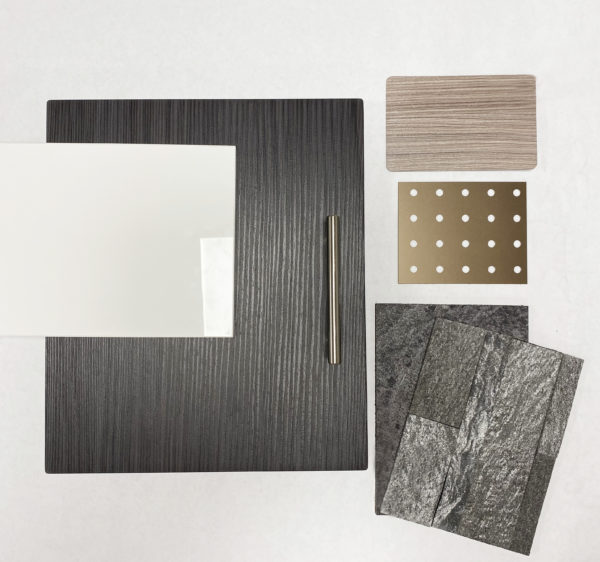 Contemporary style is about what's new, now. Contemporary isn't just another word for modern. In homes, modern is a specific design movement, while contemporary means "of the moment." Look for these features in contemporary kitchens:
Slab doors. No frames show on these "full overlay" cabinets. All you see are smooth slabs of flat doors and drawers. Hardware, like the slim bar-shaped handle shown on our mood board, tends toward sleek, unfussy and metallic. Steel, chrome and nickel finishes are popular hardware choices.
Varied materials. Contemporary doesn't mean "cold." Mixing natural materials including wood and stone with man-made ones like steel lets you balance how warm or cool you want your kitchen to look. This design also uses familiar materials in unusual ways, such as colored or patterned concrete for countertops.
Stainless Steel appliances. These kitchens spotlight steel appliances that have commercial-kitchen looks sized for a home-kitchen space. Knobs are sleek or just don't exist—a flat, touch-control cooktop is ideal for this design. Steel appliances add metallic sheen that pairs well with woods.
Backsplash artistry. The backsplash gets special attention in contemporary kitchens. Whether it's above a sink, a stovetop or a counter, a backsplash is the canvas for your creativity. Glass tile lends sparkle and offers endless colors, patterns and textures. Ceramic and stone tiles are other popular options.
Geometric patterns. While straight lines are a key feature, they're offset by circles, squares, triangles, or curves to engage your eyes. Add shapes using "pendant lighting"—lights, usually in sets, which hang over an island or in the center of the kitchen, dangling from cords or rods. Shapes also feature in arched exhaust hoods, curved counters, and patterned barstools.
The mood board's gold surface sample dotted with circles marries two looks: A muted metallic shine and a geometric pattern. Look at the board's door and flooring samples, too. Both are natural woods with the grain subtly repeating lines that fit the geometric theme.
Color appears in pops of a single, bold color on an island, backsplash, or accent piece. The tans and beiges of wood, with whites and grays, play the main role. For more, visit our gray mood board.
No clutter. Stow small items. But don't be afraid to display pieces like bright, colorful mixing bowls or unusual glasses. Contemporary kitchens often include display nooks. Kitchen Tune-Up's design tool helps you picture your contemporary kitchen as you play with design elements on screen. Our project gallery shows you real-life kitchens to help you gain ideas from projects we've done in your area or around the country.