Kitchen Inspiration: Adaptable, Versatile Slab Doors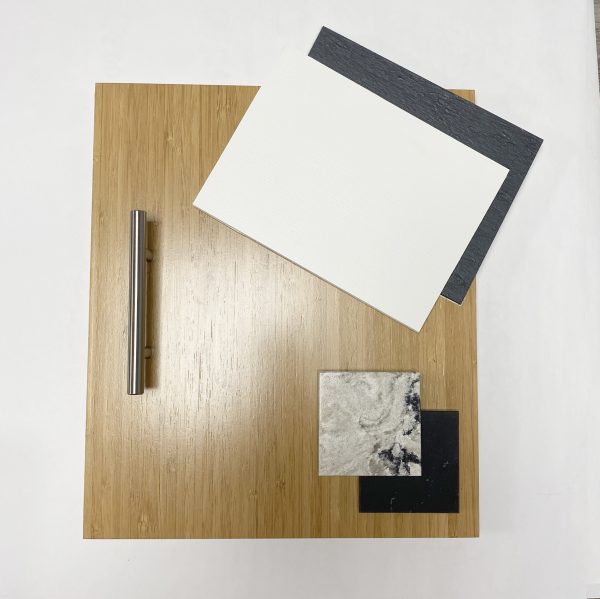 This mood board is deceptively simple. The flat door, the basic handle, the solid wall accents. But don't mistake simple for boring. These elements are the springboard for looks that range from retro to contemporary. Take a closer look.
First, the cabinet door: Slab doors are a single smooth front, without moldings or decorative raised panels. Cabinet frames and hinges don't show, so the look is clean and unfussy. The bar-shaped handle—a very popular choice for slab doors—is sleek and efficient.
You'll find a big range of wooden slab doors, like the clear-coated wood shown here. But if you crave color, slab doors come in almost every shade, with matte or glossy finishes. Next, check out the quartz countertops—one, a gray-and-white marble-look, and the other, black flecked with white. There's more here than just appearances.
Quartz countertops' beauty hides a secret: They're nonporous, so if you spill the darkest coffee, reddest tomato sauce or, well, anything, it won't sink in and stain.
Quartz countertops are crushed quartz and stone materials blended with resin that creates a tough, easily maintained surface. Quartz countertops can bring your kitchen the luxurious look of natural stone, like these do, but they're also available in rich, bright solids like red, orange, or blue, or solid neutrals like gray.
The mood board's wall accents in bright white or textured, dark charcoal are versatile. Use them as a backsplash above countertops, stove or sink. Create an accent wall. Revitalize a kitchen island by dressing it in one of these finishes.
Find Your Style
Now that you've gotten to know these design elements, what style suits your fancy? Slab doors and dark-and-light counters and walls work in several styles:
Contemporary: Slab doors are a mainstay of contemporary kitchens. Pair the mood board's elements with the latest steel appliances, decorative tile backsplashes, geometric patterns, pendant lamps and dashes of bright color among all this black, white and wood.
See our contemporary mood board for more ideas.
Mid-century Modern: Black, white and charcoal paired with flat-fronted cabinets also work with this old-is-new-again style. Think colored appliances, retro lamps and chairs, vintage designs on chairs and window treatments, and patterned floors like black and white checkerboard.
Scandinavian: The metallic bar handles and "frameless" cabinet door fit perfectly in an uncluttered, stripped-back Scandinavian kitchen. Pair this door with solid white quartz countertops, or flip the script and opt for white slab doors with wooden countertops, and a white-and-wood island.
Let Kitchen Tune-Up help you turn a dream kitchen into reality. Use our Design Tool to see how this mood might work in your kitchen.