Kitchen Inspiration: A Delicious Design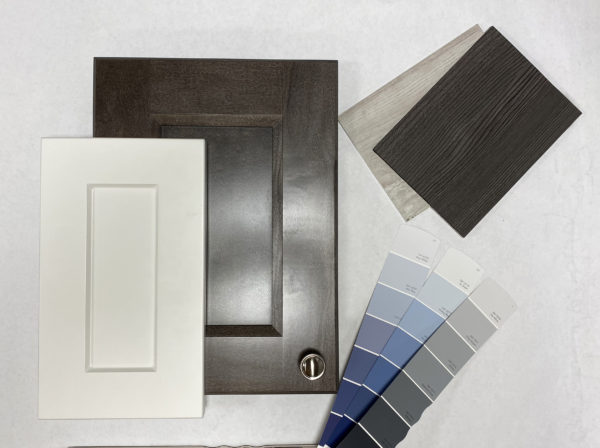 This delicious kitchen mood encompasses rich, dark browns and lighter neutral blues and greys. Chocolate is one of our favorite kitchen color schemes because of how natural it ends up looking.
Brown is a natural wood tone, after all, so while your cabinets will be painted, your kitchen will look incredibly natural--timeless, even.
Calming colors
The highlight of this mood board is its gentle, calming nature. These colors lend themselves nicely to rustic, homey looks. Much like the colors on our sage moodboard, the blues and greys in this chocolate look are just begging for a kitchen full of open shelving and green houseplants. There are different shades of "chocolate" to use in your kitchen.
Be mindful that the darker chocolate brown you choose, the lighter your accent colors should be. That said, the lighter shades are incredibly versatile and can match up with nearly anything from wooden butcher blocks to the brightest marble countertops.
Room for patterns
Patterned countertops or backsplashes play really well against chocolate backgrounds. If you've always had a crazy design element in mind--say, a checkered wall print of a zany tile pattern--a chocolate kitchen is the place to try it.
There's a certain monotony to the repetitive chocolate browns, but that can be a good thing as it allows unique pieces of kitchen design and decor to really shine.
Mood boards are designed to spark your creativity. If this chocolate-themed display has brought out your inner designer, you might want to check out some of our other mood boards to further your inspiration. Your kitchen is the centerpiece of your home, so take your time and find a design that really makes it shine!
Kitchen Tune-Up also offers a helpful design tool that lets you see how even the minute details will turn out. Mix and match different materials and design aesthetics to see your inspirations come to life and rest assured that our talented Kitchen Tune-Up team can make them a reality.
Head over to our project gallery to see some of the completed projects we've worked on. Who knows, you might fall in love with a design you'd never thought of before!