Get a Grip: Choosing Door and Drawer Hardware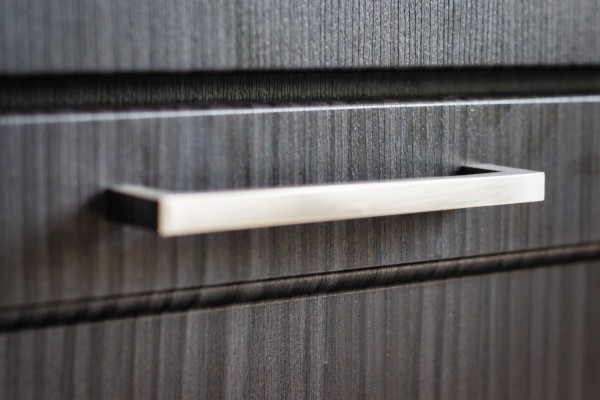 You've viewed what seem like dozens of cabinet door and drawer designs. So much to decide: Cool gray on a contemporary, flat door? A traditional raised panel door, in dark wood? Maybe Shaker cabinets, with their goes-with-everything versatility? Your kitchen's personality and functionality—for years to come—depend on what you choose, so you're choosing with care.
Apply the same care to choosing cabinet door and drawer handles. Don't let them be an afterthought, because they can make a dull door into a dazzling one. Use these hardware selection tips:
Knobs and Pulls: The Basics
The difference between the two main types of handles—knobs and pulls—is more than cosmetic. Knobs are smaller, often round or ball-shaped, installed with one screw, and frequently used on cabinet doors or small drawers. Pulls are larger and show up more against door and drawer fronts, so they can make a more visible design statement. Installation usually takes two screws, one at each end, making them a slightly bigger deal to change. You'll usually see pulls installed horizontally on drawer fronts, but they appear on cabinets too, both horizontally and vertically. Pulls can be the better choice for kitchen drawers. Drawers get heavy once you're storing items inside them—especially cookware, for instance. Pulls give you more to hang onto as you slide out a weighty drawer.
How do I choose a style?
Go with your own tastes, after you've checked out options in different shapes and finishes. Round knobs are typical, but consider shaped ones too. Retro knobs are especially fun, like grooved "beehive" knobs, glass knobs like in grandma's farmhouse, or flat, round "dish" knobs that echo 1950s style. Contemporary knobs lean toward simple and sleek. Pulls are good at complementing the straight lines of contemporary cabinets or Shaker cabinets. But a straight pull handle can have a curved top or sides, visually softening all those lines.
If you love a geometric look, go with pulls where every surface is flat. Want a whimsical, natural touch? There are twig-shaped pulls, too. Your choice of finishes depends: Do you want to match the metals of your appliances or faucet? Pick up the warm or cool tones of your cabinet color?
Use handles to create contrasts with the cabinets, or add textures and shapes? Brushed steel and brushed nickel are popular choices that go with a wide array of cabinets. Brass has been around a long time and complements the traditional look of many wood cabinets. But the range of metals is wider than those three.
Look at aluminum (a modern feel), oil-rubbed bronze (a rich, dark finish), or antique pewter. Bright copper is a bold, contrasting choice. Matte black handles go with almost any but the most traditional wood cabinets.
How do I know I can live with these for years?
Get samples of handles you're considering and ask: Can I grip this easily? If a pull or knob lies too close to the cabinet or drawer surface, there won't be room to get your fingers around it. Will this catch on clothes, or will we bump into it? If a pull or knob sticks too far out from the surface, it's going to get in the way. How does this feel? You'll be touching these items daily for years.
Maybe that pull with squared edges looks stylish, but feels uncomfortable. Or that a knob with a textured finish gives you a more secure grip than the same knob with a slick, polished finish. You won't know unless you try them.
How many pulls or knobs do I need, and in what sizes?
This is where Kitchen Tune-Up experts are your best resource. They can advise you on the number, spacing and placement of knobs and pulls so you get the best functionality.
Do you need a single, large pull in the center of a drawer, or two shorter ones? Should you mix knobs and pulls in the same kitchen for variety, or stick with one style? Let your local franchise owner be your guide.