Convenient, Stylish Details Win Project of the Year Award for Kitchen Tune-Up Denver, CO
Congratulations to Paul and Kathryn Jost, owners of Kitchen Tune-Up Denver, CO. The Josts racked up multiple Project of the Month awards last year for their terrific work, so it's no surprise to see them taking home a national Project of the Year honor for 2020.
This kitchen earned Kitchen Tune-Up Denver, CO one of our eight Project of the Year awards. To win this accolade, a project must already have received a Project of the Month award from the Kitchen Tune-Up Home Office. Kitchen Tune-Up franchisees nationwide then vote on which monthly award winners go the extra mile to become Projects of the Year.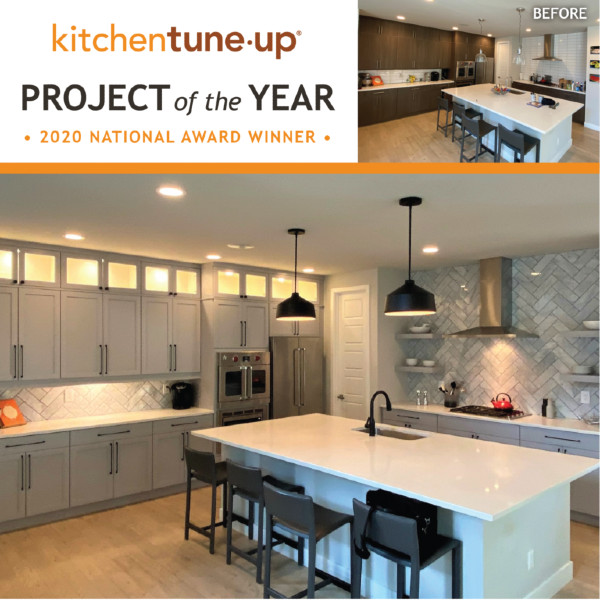 The Josts' fellow franchisees chose this sparkling renovation. Read on to learn about both the beauty you can see here, and the convenient storage hacks hidden inside these attractive cabinets!
The original, medium-toned wood cabinets had a contemporary look, but the owners opted to install white Shaker cabinets. The Shaker style, with a narrow, flat rail surrounding a simple center panel, is one of today's most popular kitchen cabinet looks, for its versatility and adaptability to both modern and traditional kitchens. Oversized, bar-shaped handles add a sculptural touch.
Look up, too. You'll see the small storage cabinets near the ceiling are now converted to glass-fronted cabinets with recessed lighting inside. These small but stylish cabinets illuminate the space while providing storage too. Placing lighted cabinets like these on top of other cabinetry gives the space an illusion of additional height.
The old backsplash was shiny, white subway tiles, marching horizontally across the walls. The remodel created more detail by using gray-and-white marble tile, installed in an eye-catching herringbone (or zigzag) pattern. Four floating shelves now flank the steel vent hood. Shelves keep cooking essentials within reach but also add visual appeal.
The kitchen island essentially stays the same, but the chrome faucet and glass lamps are gone. In their place are a pair of black metal pendant lamps overhead and a black gooseneck faucet for the island sink. Bold, dark accents like these add flair to the otherwise simple island.
Some of the most useful touches are ones you can't see here! The Josts made this kitchen more functional by adding a pull-out trash bin, roll-out cabinet space, and a spice cabinet next to the stove.
To learn about the Josts' award-winning work, get to know them at their Kitchen Tune-Up website today.